SendinBlue.com
In a sentence, SendinBlue is an all-in-one email marketing service that's capable of taking care of the entirety of your email marketing needs.
Or we can Say that It's  an alternative of Mailchimp But with less Price.
Features :
Below are some Feature of SendinBlue tool.
✉️ email marketing campaigns and broadcasts
? email marketing automation
? transactional email and SMS
? social media marketing
SendinBlue Email Automation comes with lots of features as compared to its competitors in the market
Basically, SendinBlue allows you to set specific triggers and email messages that will be sent when those triggers go off.
Some of the things you can do with this:
If someone id coming on a givien page of your website : you can show then moer topic related to that page.
Someone forget to checkout or just come to checkout page → send an email.
Send a welcome email to new subscribed user or User who wil just opt for a service
send Birthday greetings
target audience with page visit of someone clicked on a link.
Pricing :
Price is something you need to look at of SendinBlue, See Below various plans :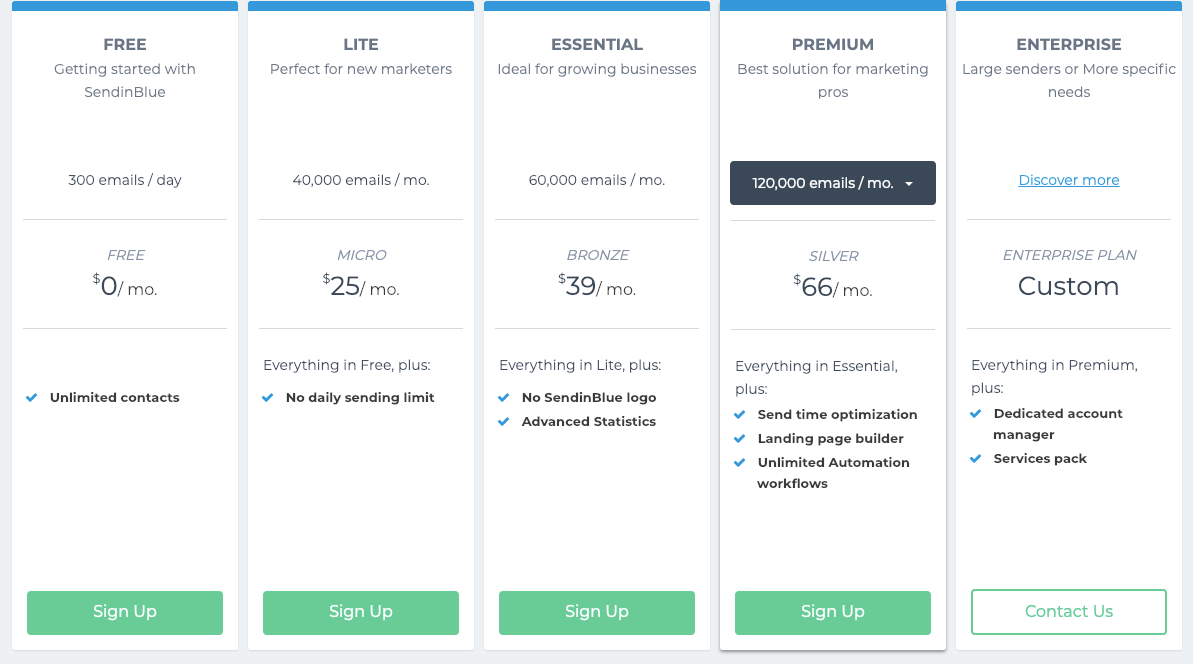 The Good thing here is that SendinBlue chrges per email sent not for your number of contacts. That means weather your email list for 1000 people or 1000000 people sendingblue dont charge for that , It will only charge for the number of email wsent by you.
SendinBlue also offer free plan similar like mailchimp, you can have upto 2000 contacts and can send 300 email per day , which means you can send 9000 email per month for free.
If you are a newbie in the market then you can try all feature with FREE Plan .
(If you want to send SMS, those are more of a pay-as-you-go deal. For example, sending 100 SMS in the US is $1.34. Sending 200 is $2.68, and so on. Sending to other countries has different rates.)
2. Constant Contact
Constant Contact helps small businesses, nonprofits, and individuals navigate the power and potential of the Internet with a robust suite of web building, e-commerce, domain, logo making and online marketing tools.
Make Your emails Automated with Constant Contact
Send emails for joining , Birthday, Anniversary, or any customised event automatically
Add subscribers via SMS messages, Facebook, forms and more
Contact management dashboard provides all the tools users need to organize subscribers into a single contact list. 
Store files and images online to share via emails
Track Realtime Email Results.
Create reports that show statistics on number of clicks, unsubscribes, forwards, opens, spam reports, and more. 
Create Event Registration and sending emails to them Automated
Constant Contact offers native integrations with e-commerce solutions to enable marketers to process abandoned cart emails
Pricing : 
Constant Contact provides 60-day free trial offering, which is more than double the length of most competitors. We've listed the pricing below for Constant Contact's . Note that the prices below reflect the monthly billing cycle, and that Constant Contact offers a 15% discount for annual billing.
Pricing :
0 – 500 contacts: $20/month
Their Basic Plan starts from $20/mon in that you can send unlimited emails to upto 500 subscribers.
0 – 500 contacts: $45/month
Constant Contact have another email plan which they call " Email Plus Plan" the price is for $45/month for upto 500 subscriber
If you Subscribe for Yearly Package then you can get additional 15% discount.
3. ActiveCampaign
ActiveCampaign is a platform that helps businesses automate customer experiences and build meaningful connections with their customers. Since 2003, ActiveCampaign has created tools that are both powerful and easy to use – because growing businesses don't always have the time to set up new tech. Today, 80,000+ businesses use ActiveCampaign for their email marketing, marketing automation, or CRM.
Key benefits of ActiveCampaign is that it integrates with over 150 apps and services. The apps and services range from accounting, CMS applications, and analytics, all the way to services that are focused on sales, support, as well as lead generation.
Feature :
Marketing automation
Built-in integrations with over 200 external services
Get Live tracking of your campaign.
Provide SMS marketing service with Sales & CRM Automation.
Email Designer tool with Drag and Drop Features.
Social Media handling.
Freephone, live chat, as well as email support
Build custom forms for your landing pages
Pricing :
Lite Plan – $15/mo (monthly) or $9/mo (yearly)
Plus Plan – $70/mo (monthly) or $55/mo (yearly)
Professional Plan – $159/mo (monthly) or $129/mo (yearly)
Enterprise Plan – $279/mo (monthly) or $229/mo (yearly)
4. HubSpot
HubSpot marketing automation software is a powerful suite of tools that help you turn visitors into leads. You'll get lead flows, forms, kickback emails, analytics, and more — all designed to make it easy for you to efficiently grow your business. Capture leads, learn who they are and what they're interested in, and optimize your marketing based on data, not guesswork. Sign up for free, get started in minutes, and start growing your business today with HubSpot marketing automation software.
Features :
Marketing Automation Workflows
Leads Magnet & Conversion Mechanism
Content Optimization System Templates
Social Media Inbox Streams
HubSpot Connect Program
Analytics & Reporting
Pipeline Management
Free Certifications
Inline WYSIWYG Content Editor
Pricing :
Free – $0
Starter– $68/month
Professional– $1,050/month
Enterprise– $4,320/month
5. Ontraport
Ontraport provides a customer relationship management (CRM) system for small and growing businesses looking to automate marketing and sales efforts. The solution includes tools for email marketing, lead scoring, lead nurturing, lead generation, task management, affiliate management, event management, payments, membership site creation and management and more.
Features :
Social Marketing
Pricing :
Ontraport Basic $79/mo For upto 1000 contacts, comes with 1 user signup
Ontraport Plus $147/mo for upto 2500 contacts, comes with 2 user's signup
Ontraport Pro $297/mo for upto 10000 contacts, comes with 3 user's signup
Ontraport enterprice $ 497 for upto 20000 contacts, comes with 5 user's signup
6. SendX
SendX is a great choice for you if you're a startup or a small business looking for an affordable Email Marketing Software. Along with an extremely affordable pricing structure, you also get a very easy-to-use UI which will make for a perfect place for you to execute your Email Marketing Campaigns. And needless to say, it has all the features and tools that you'll need to fulfill your Email Marketing needs.
Their 24×7 Live Support Team ensures that you'll never get stuck while creating your campaigns. Just message them on live chat or hit them up via email and get near-instant replies. Furthermore, SendX offers advanced automation and A/B Testing capabilities that can be executed within minutes! Their rules-based interface ensures you don't have to fiddle around to get your automation up and running.
Features :
Send Unlimited Email Campaigns
Build Your Email List with forms and pop-ups
Powerful Automation Tools
Design with Drag & Drop Email Editor (no coding required)
Smart send and A/B testing capabilities.
Best Of Breed Email Deliverability (get emails delivered in the primary inbox)
Free Migration Service (we will migrate your email marketing account from any ESP for free)
14 days Free Trial (no credit card required, instant setup)
Pricing :
Sendx Comes with Free 14 Days Trial package in that you can explore all feature of Sendx
After that, the paid plan starts at an extremely affordable price of $5.99/mo. with all feature in this plan as well as it provide subscriber base plans not email based.
For User 1-1000 price $ 5.99/mo
For User 1001-2500 price $ 11.99/mo
For User 2501-5000 price $ 23.99/mo
For User 5001-10000 price $ 35.99/mo
For User 10001-15000 price $ 47.99/mo
As your email list size increases, you get promoted to higher pricing tiers, which allow you to send unlimited emails with ease!
 7. Benchmark
Benchmark Email offers an integrated, automated and robust feature set built to help the enterprise of any size. A powerfully simple and simply powerful email marketing solution designed to help you create and send compelling campaigns with ease.
Engagement tools designed to help your business guide your customers through the customer journey. Bring customers in with signup forms that automatically fit into any space on your site you want. Automated and triggered follow up tools to stay in touch with your subscribers. Target, Test and Track succes
Features :
A/B Testing
Auto-Responders
CAN SPAM Compliance
Customer Surveys
Drip Campaigns
Dynamic Content
Event Triggered Email
Image Library
Landing Pages/Web Forms
Mailing List Management
Mobile Optimized Emails
Reporting/Analytics
Subscriber Management
Template Management
Pricing :
Paid plans include all features and start at $11.95 for unlimited emails up to 600 contacts. Prices increase incrementally, costing another $6–$8 per month for every 500 additional contacts up to $327 per month for 65,000 contacts and beyond. There are even options for businesses with more than one million contacts.
8. GetResponse
GetResponse is a comprehensive marketing software platform with more than 350,000 customers in 183 countries that helps you create content, boost sales, and increase traffic to your website. Integrated email marketing, autoresponders, and landing pages let you automate essential tasks and launch effective marketing campaigns. Advanced analytics make it easy to track conversions, leads, and ROI, and learn what your customers want. Customizable template scenarios do the work for you no coding necessary.
With more than 15 years of experience, GetResponse continues to deliver excellent-quality online marketing solutions that empower entrepreneurs and make their businesses grow.
Features :
Email Marketing with Automation
Autofunnel
Inbuilt Landing pages
Traffic generator via facebook or social add creator
Marketing automation.
Sales & CRM Automation
engage customer with inbuilt forms and surveys features.
Analytics & Optimization
List Building & Management
Real time Rporting of sales & Event
Integrate with more then 130 apps
Pricing :
Basic Plan Starts From $15/mo
Plus Plan Starts From $15/mo
Professional Plan Starts From $15/mo
Enterprise Plan Starts From $15/mo
9. iContact:
iContact stands among the America's most popular email marketing services. Being headquartered in the Morrisville, North Carolina, iContact has helped various small and medium sized businesses turn into enterprise level organizations. On top, the provider claims to offer top-tier workflow automation and results-oriented email marketing services. iContact aims to serve clients looking to run dynamic email marketing campaigns, targeting massive audience located in different regions of the world.
Features :
Drag-and-drop editor
Fully responsive layouts
Automation
A/B split testing capability
Performance analytics and reports
Multi-user access
Segmentation
Subscription management
Salesforce compatibility
API integration
Pricing : 
$14 for 0–500 contacts
$32 for 501–2,500 contacts
$52 for 2501–5,000 contacts
$79 for 5001–10,000 contacts
$117 for 10001-15000 Contacts
If you go for annual subscription then you can get additional 15% discount.
 10. Mailchimp
Mailchimp's all-in-one Marketing Platform helps small businesses market smarter so you can grow faster. As the backbone for your customer relationships, they provide AI-powered, user-friendly tools anyone can use to be successful. Mailchimp puts your audience at the center so you can send marketing emails and automated messages, create targeted ad campaigns, build landing pages, send postcards, facilitate reporting and analytics, and sell online.
Features :
Send email newsletters, drip email campaigns, and transactional emails from one marketing app
Gather new subscribers with landing pages and forms
Use email personalization to fill in names and send emails at the correct time zone
Create your own email designs with drag-and-drop email designer
Send automated drip and transactional emails as followups
Get advanced analytics for your entire lists, and individual open data for each subscriber
Android and iOS apps to send emails, manage lists, and track stats
Pricing :
Free plan for sending up to 12k emails to up to 2k subscribers
from $10/month for unlimited emails for up to 500 subscribers, and around $5/month per additional 500 subscribers
from $0.03/email for Pay-as-you-go email
 11. Mailjet
Mailjet is a powerful email service provider used by +150,000 companies all over the world to create, send, and track their marketing and transactional emails. Mailjet's flexible infrastructure can auto-scale to send up to 15M emails/hour via our Email API, even during peak sending periods. Our drag & drop email builder helps you create 100% responsive emails in no time.
Features: 
A/B Testing
Automated Email Responses
Customer Surveys
Data Import and Export Tools
Drip Campaigns
Dynamic Content
High-volume Sending
Integration APIs
Mailing List Management
Reporting/Analytics
Template Management
Pricing :
With Free Plan You can send upto 6000 emails/mo or 200 emails/day
Basic plan for $ 8.69/mo, can send upto 30000 emails/mo with no daily spend limit
also Provide Enterprise customised plan.